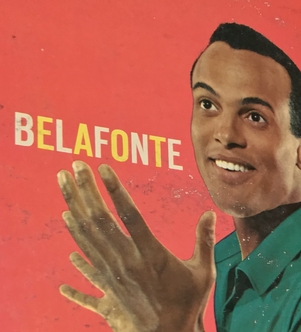 It's hard to convey to someone who wasn't alive in 1957 how widely Harry Belafonte's Calypso was heard, even in Natchitoches, Louisiana. Recorded in three sessions at Webster Hall in 1955,it was the first million-selling LP by a single artist, though many people bought the four-song EP instead. We didn't know from appropriation and we were living under racial apartheid, but something beautiful – sweet, melancholy, and unlike anything I had heard in rockabilly-land – came across in those tracks that communicated even to a first-grader.

When we got a stereo – a piece of furniture, in a blond-wood cabinet – in 1960, the stereo LP that came into the house with it was Belafonte Returns to Carnegie Hall, on which I heard Miriam Makeba and Odetta for the first time (as well as "Hene Ma Tov.")

When I got my first guitar, a Sears and Roebuck Stella, in 1961 – a Christmas present – it was supplemented with sheet music for Lord Burgess's "Jamaica Farewell," with Belafonte's picture on it. I stared at it as I struggled to put my fingers on the D chord.

But as Belafonte made clear in My Song: A Memoir of Art, Race & Defiance (2012), singing was the least of it. He was the first pop star to put his full weight behind social justice struggles, and the most effective. His memoir is obligatory reading for anyone studying the civil rights movement, or for that matter New York in the 40s and 50s.

He was approachable and accessible. I ran into him in Havana in 2000 (on Prado, outside the Fundación Yoruba), and years later at a fundraising gala for Afropop Worldwide, of which he was a reliable supporter. Even in his 80s, he was a strikingly handsome man with the aura of a star; people couldn't help but look at him as he moved slowly and with difficulty across the room to his table. I asked him about his first record, "Lean On Me" in 1949, and he confirmed for me: he was backed on it by the Machito orchestra, though it came out under the name Howard McGhee and his Orchestra because Machito had an exclusive with another label. (It didn't particularly sound like Machito, because it didn't use Latin percussion.) It hardly seemed possible that I was really talking to Harry Belafonte.

I'm celebrating that he was here for 96 years. QEPD. My Afropop Worldwide colleague Banning Eyre remembers him here.
— Ned Sublette
First published in the Nedlist newsletter, April 26, 2023.