by Carlos Fonseca Suarez
"If one thing is clear in this story," Tancredo would write me a week later, "it's that meaning always comes too early or too late, never on time."
—Carlos Fonseca, Natural History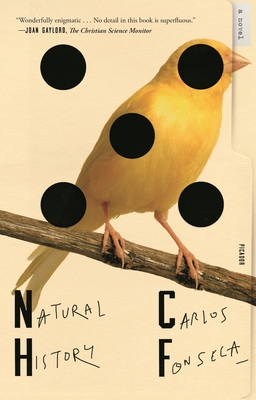 So appears the above quotation, also late, in Carlos Fonseca's rather remarkable novel, if one can categorize it so simply as but a novel. The original title in Spanish is Museo Animal, and though beautifully translated by Megan MacDowell, its English title, Natural History, somewhat challenges us: the book is not a collection that exemplifyies evolution or a lineage of animal life particular to a specific geography. However, in a 2020 interview published in the Los Angeles Review of Books, Fonseca stated,
…a book that left a strong impression on me back when I was 16 or 17 and [was] starting to get into literature….was not a novel but rather Strabo's Geography, where the narrator tells us about the many lands and the forms of nature he has seen. I remember reading that book and first feeling tempted to write a novel: a novel without characters, where the true protagonist would be nature itself. I think that, to some extent, that bizarre idea has remained with me up until today. I think that explains, as well, my interest in natural histories, be it Alexander von Humboldt's travel notebooks or the works of Sebald. (7/31/20)
I wondered why, at the beginning, so much tell and so much less show; but I also found myself highlighting quotable quotes by the dozen—about art, about aesthetics… Indeed, in that same interview, Fonseca goes on to say,
…three things interest me from natural histories. First, the possibility of narrating a long-duration story, far from the brief worries of humans. Second, that impersonal and anti-psychological density they provide us with: within a natural history, everything becomes description.(7/31/20)
Of Costa Rican and US citizenship, Fonseca has been labelled a Costa Rican writer, though his mother was Puerto Rican and he spent most of his adolescence in Puerto Rico, which has its own distinctive literary culture. In 2016 he was selected by the Guadalajara International Book Fair as one of the top twenty Latin American authors born in the eighties. Similar kudos have come from the UK's Hay Festival (2017) and Granta Magazine (2021). With degrees from Stanford University and Yale in the US, Fonseca currently teaches comparative literature at Cambridge University in the UK
_________
— Bronwyn Mills
Fonseca's latest, Austral, has just come out in English, this mid-June and we hope to offer you a more thorough consideration of it. We welcome your comments as well. For the books in the UK see uk.bookshop.org.