Translated from the Bengali by Nandana Dev Sen,
with pages from the original work in Bengali
প্রথম প্রত্যয় • First Confidence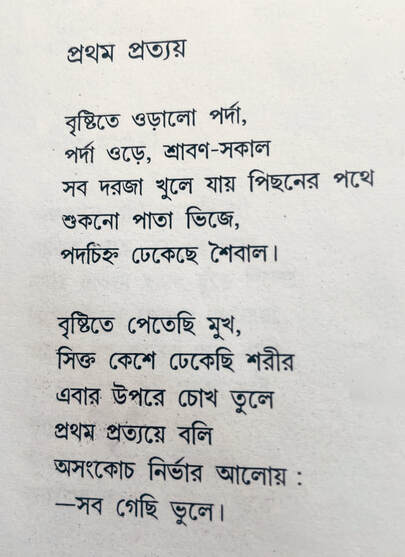 Rain sweeps through my drapes
this monsoon morning, as curtains toss,
every door flies open toward the past.
The dry leaves melt away, soaking wet,
the footprints now lie hidden in moss.

I unfold my face into the rain,
I wrap my body in drenched hair,
Now, lifting my eyes I stand tall
and, in this free and weightless light,
I say with confidence, for the first time–
I have forgotten all.
স্পন্দন • Heartbeat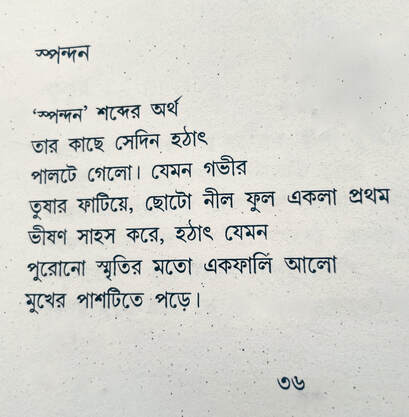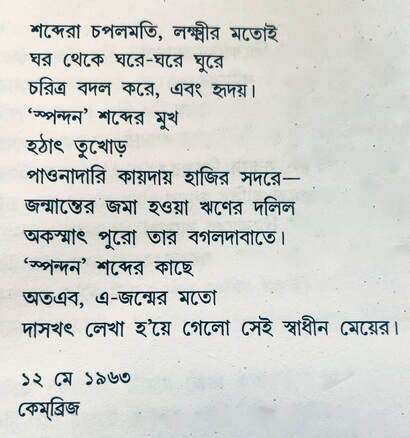 The meaning of the word "heartbeat"
changed for her suddenly that day.
Just as the tiny bluebell bursts through deep snow
for the first time, all alone, so brave.
Just as the sliver of light that falls on one side of the face,
glowing like a fond memory.

Words are flighty. Like fortune's goddess,
they flit from home to home,
changing their character, and their heart.
The face of the word "heartbeat" suddenly hardened,
like a cunning moneylender appearing at the door,
clutching the deed of debts accrued since birth.
And so, signing the bond for her lifetime,
this free woman became a slave to one word:
"heartbeat."
Notes to text:
The poem, "Heartbeat" was written in 1963, the birth year of Nandana's older sister, Antara Dev Sen.
Poems in Bengali are pages reproduced from Collected Poems of Nabaneeta Dev Sen, Fourth Edition. Kolkata, India: Dey's Publishing, 2011. Poems in English are from Nabaneeta Dev Sen, Acrobat, translated by Nandana Dev Sen. New York, NY: Archipelago Books, 2021. All poetry used with permission of Nandana Dev Sen.