Jan Schmidt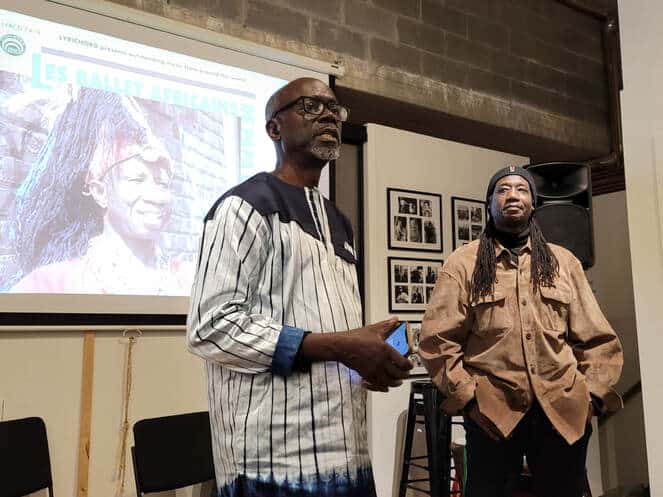 On a blustery evening, April 28, 2022, I struggled against the wind along First Street to City Lore Gallery for the sold-out event about the history of the African Djembe Drum in New York. When I entered, the room buzzed with the excitement of celebrating the djembe and Papa Ladji Camara, the man credited with bringing the djembe to New York, if not the entire Western world.

Born in Guinea in 1923, Papa Ladji Camara began drumming as a child and went on to become a world-renowned djembe drummer, performing with Les Ballets Africans de Keita Fodeba and the National Ballet de Republic of Guinea. Over the years, he also played with Babtunde Olatunji, Pearl Primus. Katherine Dunham, Art Blakey and many other notable artists. Papa Ladji Camara passed away in Senegal on October 24, 2004.

Before the program began, people gathered to hug and talk after our long period of Covid isolation. What a joy to see those faces: Sierra Leon poet, drummer, and documentarian Kewulay Kamara; jazz percussionist Chief Baba Neil Clarke; renowned dancer, drummer, teacher Carolyn Webb; folklorist Tom Van Buren; videographer Penny Ward; master drummers Kofi Donkor, Mangue Sylla, M'Bembe Bangoura; and Fanyuma Camara, Papa Ladji's son.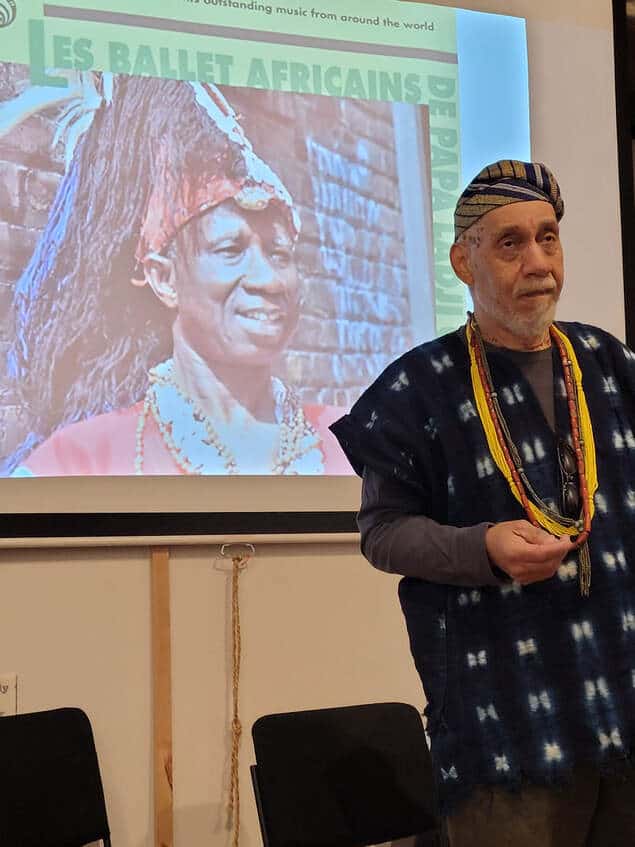 City Lore folklorist Ray Allen moderated. Chief Baba Neil Clarke offered the traditional libation, followed by a short drum session with master drummers Kofi Donkor, Mangue Sylla, and M'Bembe Bangoura. Even in this brief section of drumming, the energy erupted as the drummers performed their quick shifts from sudden loud explosions to delicate complicated rhythms. Following this introduction, Kewulay Kamara, Chief Baba Neil Clarke, Kofi Donkor, told stories about working with Papa Ladji and offered his philosophical nuggets such as "to be a drummer is to be of service."

Chief Baba Neil Clarke said that he'd played many different drums, but was astounded to find the tonal range of djembes. When he was young, there were no djembes in New York City, "none," he exclaimed. Then Papa Ladji arrived, showed everyone what a djembe could do, then taught people how to play the djembe, and, "now you can't walk anywhere in the city without tripping over a djembe."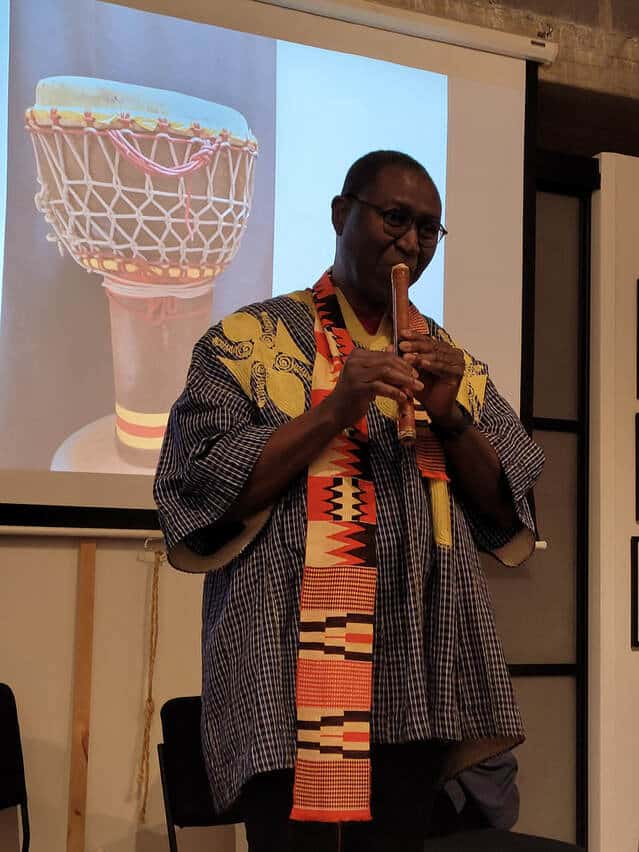 The speakers talked about Papa Ladji's gifts as a great teacher, and how he taught them to be disciplined and to respect their elders. The moderator Ray Allen had his work cut out for him, as African drummers and story-tellers could go on all night, even so, the audience was eager to hear the panelist's remembrances of Papa Ladji.

Photos and video clips were projected as well. One video excerpt showed Papa Ladji drumming in Dankarafule, An African Cultural Celebration: A Tribute to Papa Ladji Camara, presented by Kewulay Kamara at Symphony Space in 1995. Mamadou Niang recorded the performance for the Jerome Robbins Dance Division of The New York Public Library for the Performing Arts. Papa Ladji's passionate playing, complicated rhythms, and fascinating theatricality nearly exploded off the screen. In the interest of full disclosure, I was the person at the Library who produced this recording for the Dance Division, so it could be available for all and preserved for posterity.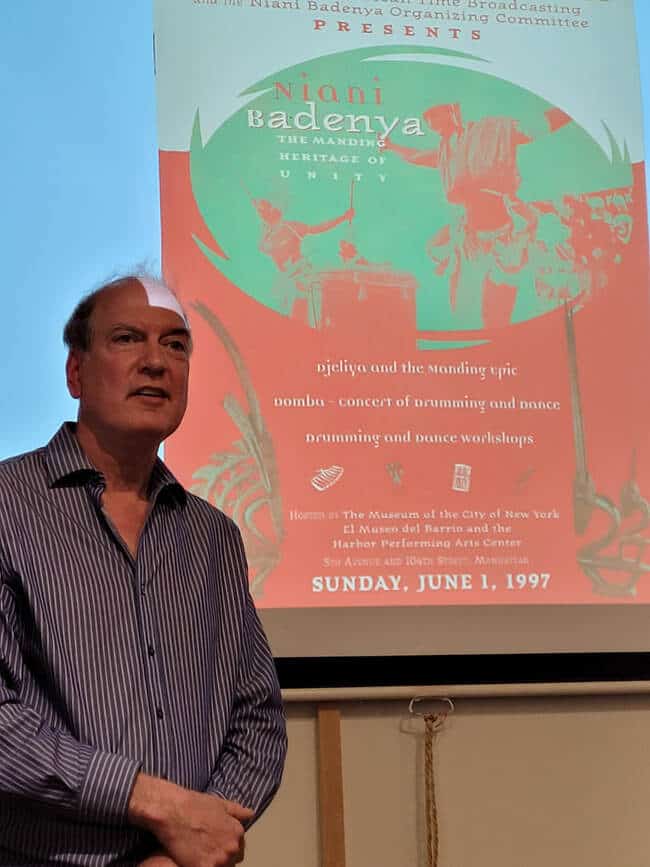 Before showing his videoclips, folklorist Tom Van Buren talked about working with the Ethnic Folk Arts Center, later named Center for Traditional Music and Dance. He showed a clip of Les Merveilles d'Afrique, choreography by Mohamed Kemoko Sano, from Niani Badenya, the Mandeng Heritage: Domba Concert of Dance, presented by Ethnic Folk Arts Center in collaboration with Kewulay Kamara at El Museo del Barrio, in 1997. In one piece, the women dancers also played drums. As in the earlier clip, Mamadou Niang recorded this event for the Jerome Robbins Dance Division.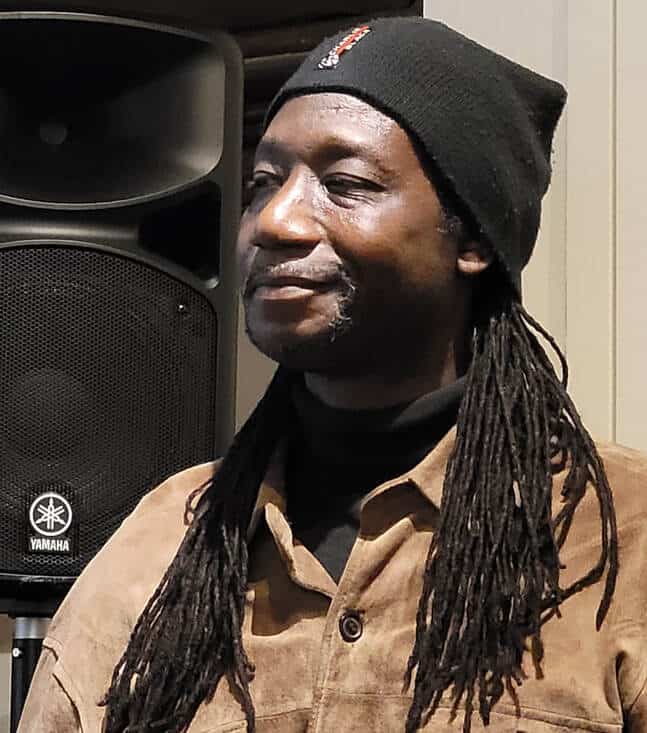 Kewulay Kamara invited Papa Ladji's son to speak. Fanyuma faced the audience—his face an exquisite sculptural mask of serenity. After thanking the speakers and audience, he said, "Being Ladji's son was a little like being in the military." His mask cracked with a delicate loving smile and he added that, as a child, his dad would give him a rhythm to practice and he'd do it for a half hour then quit to watch cartoons. When his dad found him, he made him go back in the room and do the same rhythm for eight hours. The audience laughed with Fanyuma at his picture of an artist's discipline and a child's resistance.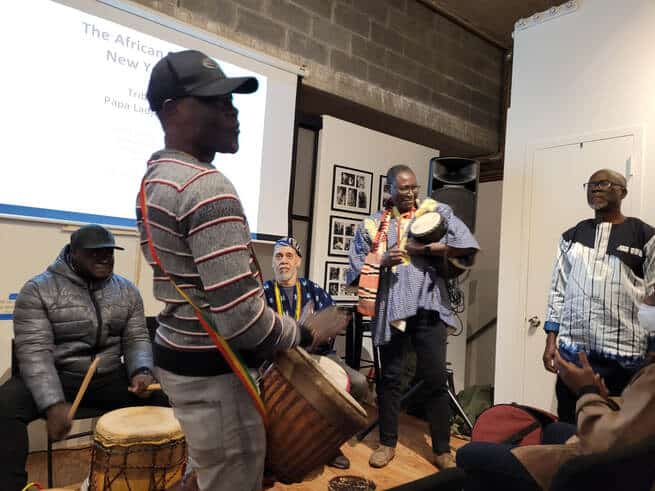 For the final portion of the evening, Kewulay told a story, with breaks provided by the drummers, about naming the skin of the drum. Cutting a long story short, he summarized by saying the point was that the skin of the drum was the heart and soul of the drum. In closing, the drummers took over. Their hands connected—skin to taut drum skin—and the hearts of the drums connected to our hearts. Carolyn Webb, who performed in Papa Ladji's Les Ballets Africains among other companies, was invited to dance. Wearing her lovely lavender blouse, she was the embodiment of the music, dancing with bent legs and scarf flying and it was good to see a woman included in the presentation. I'd be interested to hear her speak about Papa Ladji since she worked with him for many years.

As she danced, the audience rose, clapped and swayed, completely energized by the music and dancing. The night was a huge success and I'm still smiling with the joy of the faces, hands, and drums.

I was clapping and dancing so ecstatically at the end of the performance that I forgot to get a picture of Carolyn Webb, so I asked her to give me a photo from another performance. This is Carolyn Webb dancing with Retumba, primarily a women's percussion and dance ensemble.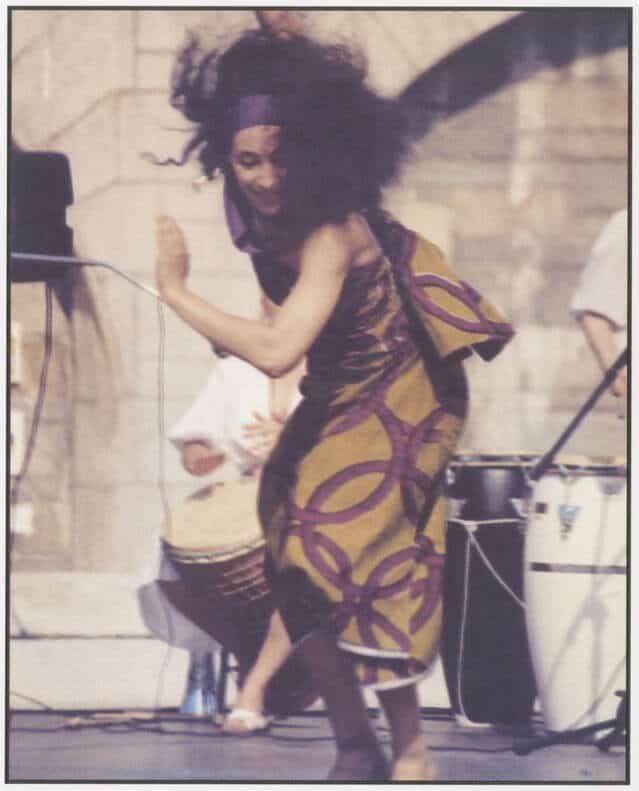 Originally published as a blog post.