(orig Polish, Prowadź swój pług przez kości umarłych)
By Olga Tokarczuk
Olga Tokarczuk's Drive Your Plow over the Bones of the Dead is by far one of the most bizarre reads I have lately indulged myself in. Billed as, for lack of a better way of putting it, a rather oddball murder/suspense mystery, I had turned to it unknowingly, as my relief for reading too many fiction manuscripts. What I must read is a good whodunit, I thought.
This book, however, is by far not so much focussed about the who but upon the whacked out world of the loopy but spirited narrator who proposes, when her neighbors are found successively offed, that animals were the murderer(s).
Mind, the author is a Nobel Prize winner via her novel, The Books of Jacob. A rather long and extensively researched book, The Books of Jacob begins with an exploration of Jacob Frank, who, in 18th century Poland (to be precise ) claimed to be a reincarnation of Sabbatai Zevi, a Jew living in what is now Turkey during the days of the Ottoman empire, who declared himself the Messiah and founded a sect based upon this declaration. Zevi later converted to Islam. Frank, however,
pushed its heresies so far they arrived at Christianity, complete with a Trinitarian God and a cult of the Cross. In 1759, Frank led thousands of his followers into Polish Catholic churches to be voluntarily baptized, a mass conversion that stunned the Jewish world.

NYTimes, Feb. 2, 2022
That same Times article goes on to refer to Drive your Plow and its author as follows,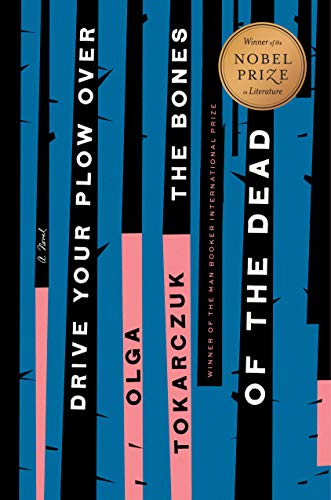 As an artist, Tokarczuk comes not to demystify but to deepen the mysteries. Her 2009 novel 'Drive Your Plow Over the Bones of the Dead,' a sort of ecofeminist murder mystery, made it clear that Tokarczuk's fiction occupies a liminal zone where the natural merges with the supernatural.

(ibid)
Indeed. Drive Your Plow won the Man Booker Prize of 2018, and was made into a film, Spoor, in 2017, and even later into a London stage play, Complicité (2023). While I have read only the English translation, ably done by Antonia Lloyd-Jones, and peppered with quotes from William Blake, the language still sings, translation or no.[1] The aforementioned wacko narrator is an elderly woman living in what to all intents and purposes is a rather godforsaken corner of eastern Poland near Czechoslovakia, and, again as noted, a narrator whose neighbors begin to be found lying in distorted positions and dead as doornails, with tracks (as opposed to footprints) surrounding the corpses. When not petitioning the police to consider various animals as the murderers, she turns to astrological interpretations to convince herself and, then, the authorities.
Thankfully, we are not expected to believe the astrology, nor for that matter, the notion of animal perps—the former as a serious 'discipline', frankly, I find hogwash—but the writing and the way Tokarczuk fashions her tale are riveting and idiosyncratically make their point. And it is notable that Janina, the main character, is a positive characterisation of a spunky little old lady.
Worth a try and definitely worth a summer read.
— Bronwyn Mills
---
[1] Also translated into peninsular Spanish, the book's title in Spanish is Sobre Los Huesos de Los Muertos.
Wikipedia describes Olga Tokarczuk as: "A flamboyantly dreadlocked vegetarian feminist, she lives with her translator partner and their dogs in a rural area of Lower Silesia that only became part of Poland after the second world war." And The Guardian review cites her as " An outspoken feminist and public intellectual, [who] has been castigated as a targowiczanin: an ancient term for a traitor."