by Brian Cullman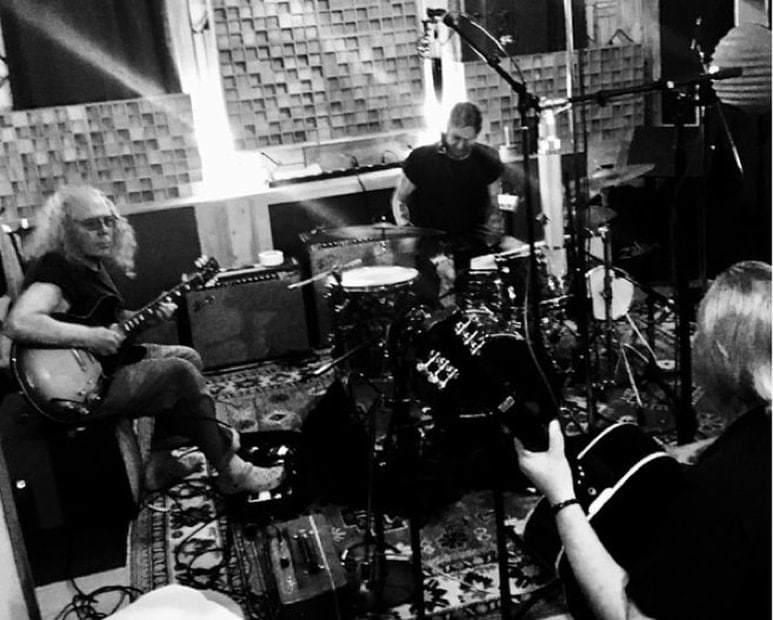 Clearly I'm not processing this very well.
I'm so used to texting Jimi, emailing him, calling him. He's such a constant in my life.
I woke up this morning worrying about how I was going to tell him that he's dead.
…maybe I won't tell him.

Jimi was a man with 7 lives, but only one pair of pants.

He hated New York. And he hated the east village.
​
It's just that he hated everyplace else so much more.
And when I'd walk through the East Village with him, just walking a few blocks could take upwards of 40 minutes. He knew everyone. Everyone knew him. He was a holdover from the time when the east village was a genuine mix of bolsheviks & immigrants & beatniks & radical poets with radial tires, philosophy professors who sold ecstasy in the library in the sociology section, the dentist who used to play bass in Cat Mother & The All Night Newsboys, the vegetarian cafe on east 6th street that sold bootleg Ornette Coleman CDs from the kitchen, the Moroccan theater director who wrote the 3 act play The Fish Who Dreamed He Was a Fish and waited tables with disdain and disregard at Phebe's until the day he came to work in his pajamas, the poets who sold language pills, the woman with beret and glasses who served drinks at the Brainy Girl bar and who wrote love letters for hire, always the same letter, more or less the same letter, with exquisite penmanship and terrible spelling, and Jimi knew all of them, and they all knew Jimi. He was going to teach their nephew guitar, buy their cousin's fuzz tone, find a new back tire for their uncle's rusty bike, walk their demo tape into Walter Yetnikoff's office, organize a slot at The Scratcher for their friend from Maine who had set The Whole Earth Catalog to music, reshoot footage for The Sine' documentary behind Theater 80 St Marks with Snooky & Tish, put a bass line on a yoga tape, teach his acupuncturist how to play Mississippi John Hurt's song about the mermaids, retune Suzy's piano, return a dobro to Tom Crandall and maybe borrow a mandola. It was all in a day's work.

Some of my happiest moments of the past five or six years involve recording with Jimi at The Maid's Room or at Forrest Sound in Long Island City, and we'd sit across from each other, I'd play the outline of a song, I'd fingerpick a pattern, and he'd weave his way around it, teasing the chords, circling them, waiting for a place to land, and then maybe opening up a chord until it gave up all its secrets and rolled over, maybe it was a passing chord from Revolver or Rubber Soul, or maybe it came out of a vague memory of bossa nova, and it hung in the air like the end of a journey, like a stamp on a letter, ready to mail, a suspended ninth, augmented and straddling the major and the minor, the sun and the sunset, the last rays of light and the first hope of dawn, all in that chord, those notes you expected, those notes you'd never expect, not here, not now, as if a blues had just discovered Stravinsky or Stravinsky had gotten lost on a downtown train and decided to stop for a beer, and I'd have to stop a moment and shake my head, "Man, that's so beautiful!" "What? You think I'm beautiful?" "That chord. It's just gorgeous." "What? You think I'm gorgeous?" And so on. And so on.

And he had all those chords somewhere in his head, those weird Brian Jones chords smuggled back from Morocco, the extra note George Harrison would overdub to make it sound like a seven string guitar or a 12 string guitar with a broken leg, and he had these sonic connections all on tap, he had all the records, or he used to have them, or he knew someone who had them, and he could call them up, they were on his own personal speed dial, the sound of a Rickenbacker in winter or a Rosewood Martin on the last day of school, a '59 Telecaster on payday or a Les Paul with jet lag.

The second day he was in the hospital, a team of doctors came in, three of them, all in white coats and all holding clip boards. And I looked at Jimi. Should I get out of here? He shrugged. Stay. Let's see what's up. And the doctors stood beside his bed. They looked at me. They didn't look at him.
"Mr Daley?" one began.
​
Jimi looked around to see if someone else had just walked in. Then it registered.
"Yes."

"Do you belong to any faith?'
He looked puzzled.
​"Were you raised in any religion?"
"Oh. Right. I was raised Catholic."
"Mr Daley, do you want to see a chaplain?"
"Christ," he said. "No. Absolutely not."
"We could get a Catholic priest…."
"Does he play bass?"
The doctors looked confused. They looked to me for help. I wasn't offering any.
"No." he said. "Fuck no. I don't want to see a priest."
"We just want to honor your beliefs. What do you believe?"
Jimi thought for a minute.
He was taking them seriously.
He was taking the moment seriously.
He was taking them seriously.
"The Beatles," he said. "I believe in The Beatles."