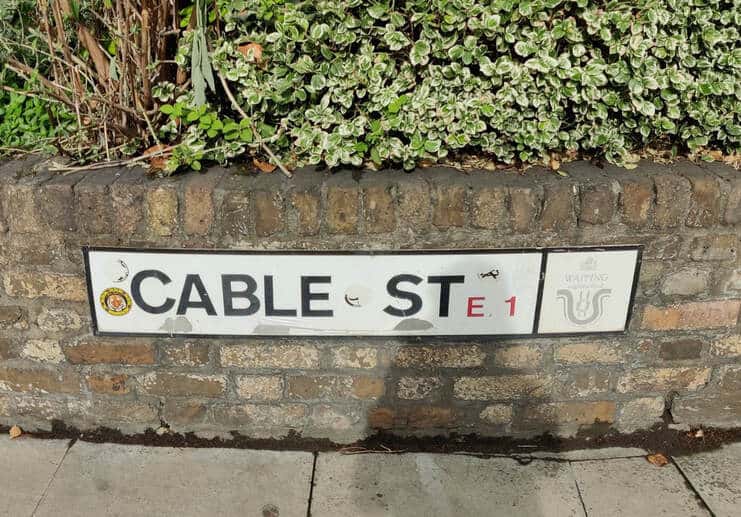 Once upon a time there was—and still is—a thoroughfare in London's East End which ran straight and long enough to braid ropes on, just north of the vast docklands where they would be put to use.

Later, in 1936, Cable Street gained a lasting distinction when the borough's residents—working class and immigrant, Irish and Jewish—came together in a historic act of resistance that heralded the defeat of official fascism in Britain. To this day, the people of Cable Street still know how to throw a proper Wapping "knees-up" in celebration of their community's egalitarian heritage.

It is in this spirit that we launch our 18th Issue as an editorial collaborative, and the first under our new banner. Reading down our Table of Contents you will find Dana Delibovi's interview with Nandana Dev Sen and her translations from Bengali of two poems by her mother, Nabateena Dev Sen. Our poetry section also includes work by by Kelly Eagan, Michael Franco and Trish Crapo.

Chris Sawyer-Lauçanno's essay on Tradition and Translation, originally published in 1993, reads as or more pertinently today. Bronwyn Mills also persues the translation theme in her review of R.F. Kuang's fantastical novel Babel, set in the nineteenth century but very much resonant in the twenty-first.

In the realm of music, Jan Schmidt offers a vivid witness-participant's account of a recent event in honor of the legendary Guinean Djembe master Papa Ladji Camera. And Brian Cullman contributes an encomium to the late guitarist Jimi Zhivago. Our London correspondent, Cristina Lago, offers a theriomorphic fable, and in our Editors' Pocket Anthology we six respond in personal "essays" to the resonance of our new name.

In the memoir department, we are delighted to present an excerpt from David Sullivan's Troublemaker – his recollections of growing up radical in the Greenwich Village of the 1960s, as well as the latest installment in our serialization of Chris Sawyer-Lauçanno's Becoming.

Bronwyn Mills continues her insightful exploration of the work of the eminent Kenyan writer and political activist Ngugi wa Thiong'o; Dana Delibovi presents her tribute to the late theatrical genius Peter Brook, and yours truly celebrates the lives and works of five recently-passed writers of enduring influence. Rounding out this issue's literary cornucopia are Remarkable Reads: critical appreciations of three fascinating books.

On the visual front, our Portfolio, curated by Hardy Griffin, features Nuran Akkaya's riveting photographs of the Armenian community in Turkey. As always, we have interspersed the written fare with some arresting images, and conclude with a Colophon appropriate to the moment.

Enjoy the bounty!
– Eric Darton for the Editors
N.B. We mourn the passing of Gerald Stern, who died November 22th at the age of 97. Dana Delibovi's tribute to this most vital of poets, which appeared in Witty Partition 15, is most definitely worth a revisit, or first time read.